Metal Roof Install & Replacement Services
A Durable & Beautiful Roofing Choice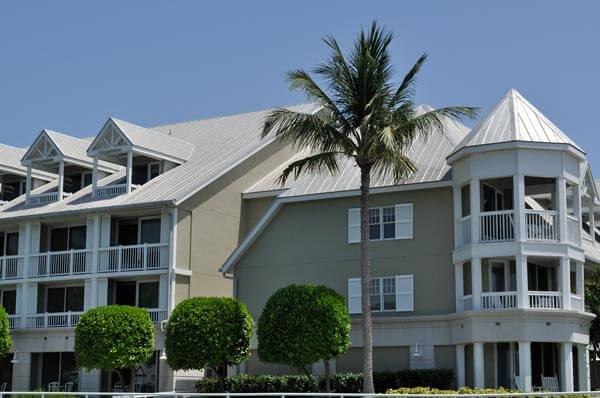 Metal roofs are becoming a very popular choice in our area. Metal roofs are durable, solar-reflective, energy-efficient and stylish. They are a key component in the coastal architecture that makes Panama City so attractive. Gulf Coast Roofing offers a wide variety of metal roofing profiles and colors to fit what you have in mind.
When selecting a metal roof, it is important that you pick the right material. Don't just go for the most affordable option when choosing a metal roof – even if it is very tempting. Why spend so much money on a roof that is going to give you maintenance issues or not last in our harsh coastal climate? Choosing the right materials and installation techniques can more than double the expected lifespan of your roof, ensuring that your money is well-spent.
You deserve a roof that will last. Let Gulf Coast Roofing help you decide which metal roof works for your budget and needs.
Advantages of Metal Roofs
Metal roofs are extremely energy-efficient. In fact, with the right roof coatings, they can be classified as "cool roofs" since they can effectively reflect sunlight away from your property. In addition, modern metal roofs are a far cry from their predecessors. These aren't the rusty tin overhangs once seen on outbuildings. Today, metal roofs are available in many different styles and colors, and can even mimic the look of other materials such as shingles and tile.
If you have a metal roof installed on your property, you probably won't have to pay for another roof replacement. These roofs can last 50 years or more.
Let's Connect Today
Not sure if a metal roof will work for your roof replacement project? Want more information about your options? Gulf Coast Roofing can assist you. We're commercial and residential metal roofing experts. Call us today at (850) 465-7663 or fill out our online form to get in touch.